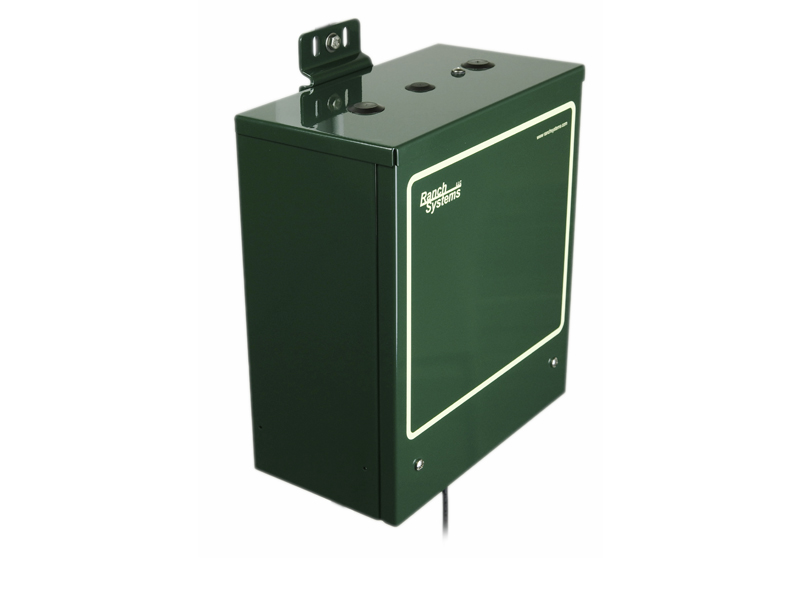 Overview
The RL200 is an intelligent expansion controller that adds 12 extra control outputs to any Ranch Systems wireless unit. Using RS485 communication, multiple RL200s can be "daisy-chained" on the same wireless unit to provide up to 72 control outputs in a wired network up to a total of 1000 feet.
When used for controlling valves, each of the 12 outputs can be configured as either N.O (normally open) or DC latching. N.O. is used to switch existing 24 VAC irrigation currents while DC latching can be used with compatible solenoids to switch valves using the power provided by the RL200 (ultimately from the host RM210 or RS300 unit).
Outputs in the N.O. configuration can also be used to switch virtually any other pieces of equipment under low-voltage electrical control, such as pump starting circuits or gate opener input.
Features & Benefits
The RL200 Valve Controller includes 12 control outputs (NO switch or DC latching), outdoors rated steel enclosure, and 10 ft of cable with RS bayonet connector.
Features include:
Connections for 12 valves or equipment controls (relays)
Expandable via daisy-chaining to total of 72 valves per location.
Connects to any RM210 or RS300 via RS485 port
Stand-alone micro-controller eliminates cable loss, since control signal is sent digitally to RL200 and executed close to valves
Each output/relay can be configured for N.O. isolated switch or DC latching valve control
All connections via solid screw terminal blocks. Easy retrofit/replacement of existing legacy irrigation timer.
Only consumes power for a few seconds during sensor reading or relay switching
NEMA 3R/IP14 rated 16 gauge steel enclosure with saddle mounting bracket for pole attachment with metal bands