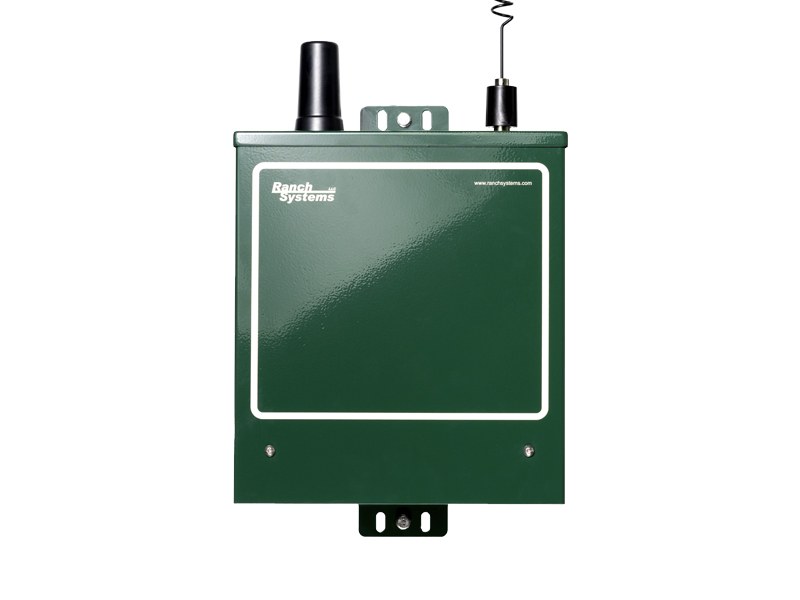 Overview
Mesh Telemetry Base Station, includes 6 analog/digital inputs, RS232, RS485/SDI12, outdoors rated steel enclosure, 20AH battery and integrated PWM charger (Solar Panel or Wall Charger sold separately).
Features & Benefits
The RM210 is a mesh telemetry base station designed specifically for applications where cellular or WiFi connectivity needs to be shared among a number of sites (i.e. nodes where data needs to be collected or equipment controlled).
The RM210 maintains constant connectivity to the Ranch Systems online software and regularly collects data from as many as 50 associated mesh telemetry nodes (RS300 nodes) in the same general area. It also acts as a controller for control actions programmed in the server software, executing irrigation programs and transmitting start/stop commands to equipment attached to nodes.
In addition, the RM210 can simultaneously act as a complete sensing and control unit in itself, essentially performing the function of the first node of a larger system. For example, a full set of weather sensors can be attached, making it a complete weather station. Finally, one or more RX300 or RL200 units can be attached to make it a complete irrigation control unit.