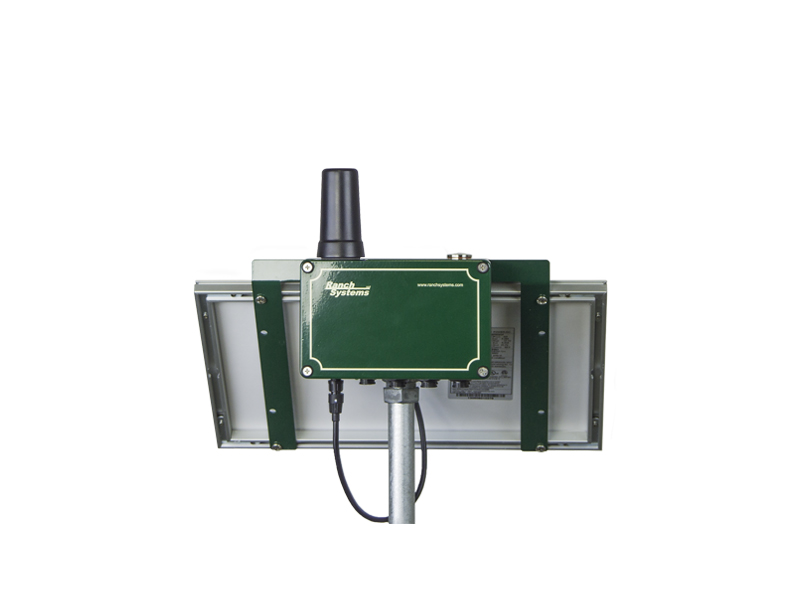 Overview
The RS300 is an advanced mesh telemetry node combining data logging with radio telemetry in an integrated package also including an outdoors enclosure, solar panel, and battery. It offers a wide range of radio options for communication to the Ranch Systems Cloud Application, including cellular, wifi and various local area radio systems. The basic unit has dual analog/digital input port, two high-speed serial ports, and 4MB of data memory. Two expansion slots allow the addition of up to 8 outputs/valve controls or 8 additional sensor inputs, or a mix of both input and output.
Nodes come in two different categories, stand-alone and local radio:
Stand-alone models include cellular or wifi modems which communicate directly with the Ranch Systems Cloud Application and allow versatility in placement wherever there is a signal.
Local radio models require at least one RM210 base station for communication with the Ranch Systems online software. This option is optimal for areas with low cellular connectivity or large deployments of telemetry units in various locations.
Features & Benefits
Features include:
Fully integrated: Data Logger, Radio Modem, Battery and Solar in one outdoors rated package
Expandable: 2 internal slots (each accommodating an extra 4 inputs or 4 outputs,) and external expansion capability
Rugged enclosure (IP66 with GoreTex venting)
Large backup data memory (4MB)
Large power system for its size: 2AH battery and 5W solar
External LED indicators
Integrated dust caps on plugs
Does not require radio license
Supports Ranch Systems JavaScript for advanced, custom programming