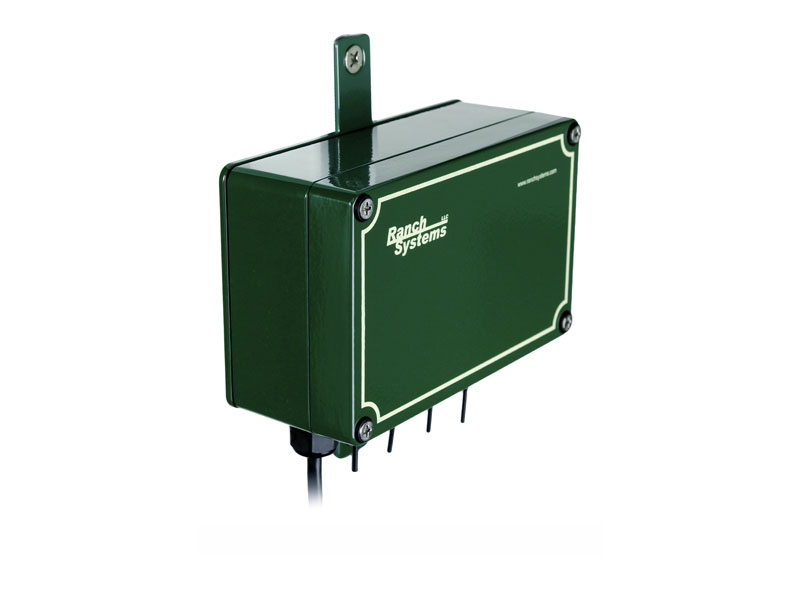 Overview
The RX300 is an intelligent expansion controller that adds 4 extra sensor inputs and 4 extra control outputs to any RM210 or RS300 wireless unit. Also, when connected using RS485 communication, multiple RX300s can be "daisy-chained" on the same wireless unit to provide up to 60 remote sensor inputs and 60 extra control outputs in a wired network up to 1000 feet from the wireless unit.
When used for controlling valves, each of the 4 outputs can be configured as either N.O (normally open) or DC latching. N.O. is used to switch existing 24 VAC irrigation currents while DC latching can be used with compatible solenoids to switch valves using the power provided by the RX300 (ultimately from the host RM210 or RS300 unit). Outputs in the N.O. configuration can also be used to switch virtually any other pieces of equipment under low-voltage electrical control, such as pump starting circuits or gate opener input.
When used as a sensor input device the RX300 can be installed close to the sensors sampled – even if 100s of feet removed from host unit. One example would be right above ground level connecting to Watermark sensors. This not only saves greatly on cabling but also increases the accuracy of the measurements since the critical
analog-to-digital conversion is performed in the RX300 while the onwards communication is fully digital.
The RX300 controller also incorporates unique circuitry developed in partnership with the Irrometer Company to support the popular Watermark 200SS Soil Moisture Sensor. Each RX300 can connect 3 Watermark sensors.
Features & Benefits
The RX300 Expansion Control Unit includes 4 control outputs (Normally Open (NO) switch or DC latching), 4 analog/digital inputs, outdoors rated metal enclosure, mounting bracket and 10 ft of cable with RS bayonet connector.
Features include:
Connections for 4 analog or digital sensors.
Connections for 4 valves or equipment controls (relays).
Connects to any RM210 or RS300 via RS485 or RS232 port.
RS485 connection allows daisy-chain addition of up to 15 RX300 units, for a total of 60 sensors and 60 relays with up to 1000 feet of distance.
Special circuitry to support up to 3 Watermark soil moisture sensors.
Stand-alone micro-controller and Analog-Digital converter ensures accurate readings and eliminate cable loss.
Counter capability on 4 ports (required by rain gauges and some flow meters).
Each output/relay can be configured for N.O. isolated switch or DC latching valve control.
All connections are made with convenient push-button terminal blocks. This makes it easy to retrofit non-RS sensors.
4 NEMA 4 wire glands for sensor/relay wiring.
Only consumes power for a few seconds during sensor reading or relay switching.
IP65 rated cast aluminum enclosure with flexible cross-arm mounting bracket.