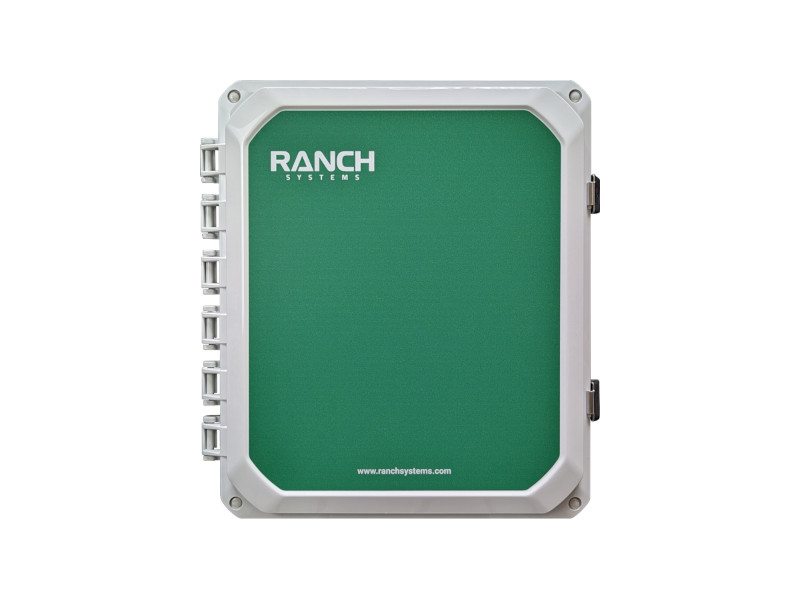 Overview
The RM400 is an advanced telemetry node, data logger, and equipment controller capable of reading data from a variety of sensors and uploading that data to the Ranch Cloud™ platform.
The RM400 is built to be the backbone of your monitoring and control system. It is designed for ease of use, with a built-in display and keypad interface for in-field configuration, valve control, and data readout. Advanced configuration is available using a cabled PC connection or by real-time cloud server connection using the myRanch™ app.
The RM400 can control up to 48 valves* and provides multiple sensor input options. Using the myRanch app, you can create multiple, fully automated irrigation programs in a matter of minutes. Programs can be automatically optimized for the shortest possible run time, and dynamically adjusted based on real-time environmental conditions.
The RM400 supports WiFi and cellular connectivity to Ranch Cloud, traditional wired sensors, and wireless sensor connectivity, using Bluetooth® long range wireless technology. In combination with the RS10 Long Range Bluetooth Transmitter, the RM400 can read up to four SDI-12 soil probes up to 1000 feet away, making new installations and upgrading existing installations easier than ever.
* Number of supported valves varies by configuration.
Features
The RM400 has the following built-in features:
Outdoor-rated, impact-resistant, and UV-stabilized polycarbonate enclosure
OLED display w/keypad interface
10 to 24V AC/DC flex power input
3.7V Li-Ion rechargeable battery
Four status LEDs
ARM 32-bit CPU with 4MB flash file system for data buffering
Real-time operating system supporting Ranch Systems JavaScript for custom sensor and control integrations
USB-C cable interface for PC connection
Built-in Bluetooth®­ modem
Built-in WiFi modem
5V and 12V DC excitation voltage generator
Eight (8) feedback sensor/digital counter ports
Onboard diagnostic sensors for internal temperature, battery voltage, current draw, charge current, and cellular/WiFi signal strength
The RM400 supports the following optional expansion components:
Cellular modem w/AGPS
24VAC solenoid control output, up to 48 outputs w/four (4) stackable, 12-port expansion boards
Sensor input expansion board